novembre 08, 2023
Logista, a leading logistics operator in Europe specialising in the distribution to proximity channels, has announced its financial results for the 2023 fiscal year, which ended on 30 September. The company recorded net profit of €272 million, representing a 37% year on year increase. The adjusted EBIT also grew, by 17%, reaching €366 million.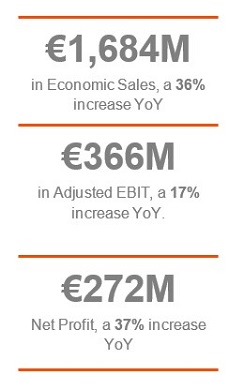 In terms of economic sales, the company earned €1,684 million, or a 36% YoY increase, while income saw an 8% growth, compared to the same period in 2022, reaching €12,428 million.
The 2023 fiscal year represents a milestone in the execution of Logista's diversification strategy, reaching 50% of its economic sales in non-tobacco businesses for the first time.
The total dividend proposed for 2023 amounts to €245 million (1.85 euros per share), which represents a 34% increase compared to the previous year (1.38 euros per share).
Results by region
Iberia (Spain, Portugal and Poland)
Economic sales in the region of Iberia reached €1,093 million, a YoY increase of 58% compared to 2022. In terms of income, the company recorded €4,473 million, which represents a growth of 20% in this region.
Italy
In Italy, economic sales reached €370 million, or a 12% YoY increase. In addition, the company increased its income by 6%, up to a total of €4,256 million.
France
Lastly, in the region of France, sales reached €226 million, or a YoY growth of 4%, while income was up by 0.5% compared to 2022, reaching a total of €3,755 million.
Iñigo Meirás, CEO of Logista, highlighted that "the 2023 tax year represents an inflection point in the execution of our diversification strategy, after we reached 50% of sales from non-tobacco businesses for the first time. We will continue to seek diversification opportunities that enable us to continue deploying our strategy."
Outlook for 2024
In line with its strategic plan, Logista's main focus is to seek additional growth and diversification for its current business foundation. The Group will also continue to seek opportunities to acquire complementary and synergistic businesses. Throughout 2023, Logista formalised the acquisition of Gramma Farmaceutici through Logista Italia and also executed the acquisition of an additional 13.33% of Transportes El Mosca, thus closing the year with a total share of 73.33% of the company. In addition, after the closure of the fiscal year, Logista Libros completed the acquisition of SGEL Libros, thus consolidating its leadership position as the largest independent distributor of books in Spain.
Logista will continue to achieve sustainable growth in 2024, estimating a single-digit growth of its Adjusted EBIT compared to 2023. This does not take into account the impact of stock appreciation, due to its exceptional nature, or any possible new acquisitions.
During its session of 7 November, the Board of Directors agreed the appointment by co-optation of Teresa Paz-Ares as independent member, in order to fill the vacancy left by the resignation of Alain Minc. In addition, the Board approved the appointment by co-optation of Julia Lefèvre, as Proprietary Director of the company, to fill the vacancy left by the resignation of Lillian Blohm, who held the same position.